Construction Procurement Management is not a relatively new concept in the construction industry, but it is high time for businesses to implement Construction Procurement Management Software that can automate the task. Such an enhanced software will eliminate the human prone error and eradicate the perils faced with manual paperwork. The process will automate and offer an end-to-end solution from sourcing goods to the completion of the project.
Importance Of Procurement In The Construction Industry
In the construction industry, leveraging procurement is imperative for sourcing services and goods at every level of the project. From recruitment of contract workers, sourcing premium quality products at reasonable rates to logistically managing the transportation of materials between the sites and facilities, the knowledge and expertise of a successful procurement strategy is a must for the smooth running of a business. Some of the interplaying factors in every construction project are expenses and finance, risks, quality, and turnover. Without purchase management software for construction, it is perilous to keep parity amongst these factors.
The Role Of Construction Procurement Management Software
Envisioning digitalization of the entire construction process and procurement plays a pivotal role in bolstering the success of construction projects. From designing to various construction phases, automated construction procurement management software alleviates faster deployment. However, leveraging procurement strategies relies on the market knowledge, expertise, and resources of a project manager.
Implementation of a robust procurement management system ensures that businesses maximize their profit at a minimal cost. It also aids in sourcing high-quality products and maintaining a good relationship with the suppliers. An effective Construction Procurement Management software can minimize operational risks, financial risks, contract risks, and accelerate increased profits and a better supply chain.
Construction Material Purchase Software in business also aids in handling internal affairs, starting from product identification to ameliorate business development in every sector before sourcing to efficiently managing political and economic day-to-day happenings. Thus, the implementation of Construction Procurement Management Software can enhance procurement services with increased accuracy, consistency, and efficiency within a short span.
Ensuring An Effective Procurement Process
For the efficient running of the procurement department, it is imperative to leverage Construction Procurement Management Software that can ensure a thorough evaluation of suppliers and help categorize the best of the lot. Using material procurement vendor portal software, procurement professionals can easily amplify the products and source it for minimal cost. Besides, material procurement vendor portal software can ease the task of paying the suppliers and auditing the delivered products. Auditing ensures that the supplier delivers a superior quality product and that it can call for replacement or partial refund in case of a fallback. Successful implementation of procurement also relies upon the intrinsic strategies that a project manager uses to meet high standards of the client's business requirements.
Need For An Automated Construction Procurement Management Software
In business, the industry leaders must be prompt in their responsiveness across the vast geographical portfolio. From offering a breaking solution to property management, Construction Procurement Management Software can become the key to success.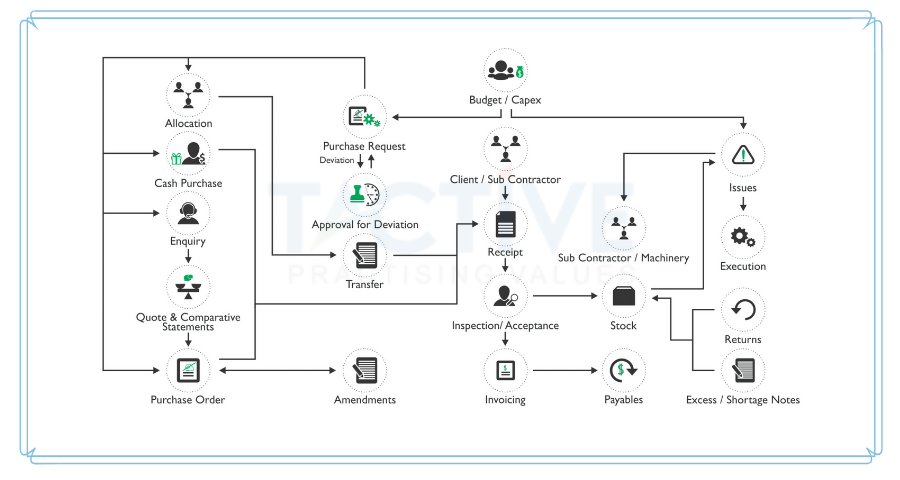 Utilization of material procurement vendor portal software enables efficiency in responding to the urgent needs of the project sites, drives a competitive platform for vendors to quote their best prices, and effectively handles vendor recruitment and management.

In the construction industry, construction material purchase software has leveraged automated sourcing that ensures extensive coverage of operational sites and eliminates the inefficiency and error-prone system of the manual paper-based process.

An effective Construction Procurement Management Software aids in alleviating real-time bidding that drives competition amongst the vendors. It will also help businesses to enhance participation via the mobile application, message suppliers, chat online in real-time, and use advanced control methods for multifarious bid negotiations.

Strategically planned procurement management further helps in operational cost reduction, automates approvals, improves spend-analysis, and offers comprehensive audit trails for all organizational activities.
Bottom-line
A procurement cycle has to undergo various risk factors like contract management, sourcing premium quality materials, along with managing vendors and expenses. Thus, it requires strategic planning for ensuring the implementation of an effective procurement measure. The construction industry mainly functions on the timely delivery of projects; hence, its success depends entirely on a well-managed procurement system. Paper-based manual works are often prone to error, and to mitigate that risk, it is ideal for implementing Construction Procurement Management software, for an error-free procurement system.
Tactive Software System leverages Construction Management software that offers an efficient procurement system for the industry. It makes the tedious task easier for the site engineers, owners, consultants, and project managers and enables better decision making, that aids in faster completion of projects. It also allows them to have controlled access to data and all its operation footprints. Leveraging years of expertise, the firm offers an end-to-end solution from sourcing goods, managing vendors, and generating comparative quotation statements, which helps construction companies select the appropriate vendors.